John Deere Gifts for Everyone on Your Holiday List
chris sandler
12/13/2012 @ 9:26am
Just a guy who lives in Maine, has friends, has family, and has a good time.
http://blog.machinefinder.com/10525/john-deere-gifts-for-everyone-on-your-list-this-holiday-season

Sometimes shopping for holiday gifts can be a real pain. Who wants what? How much does it cost? How crowded will the mall be? To make things easier on you this year, we encourage you to visit the John Deere gifts website to find the perfect gift for all your friends, family, co-workers, neighbors, and anyone else on your holiday shopping list.
Your loved ones don't have to be John Deere enthusiasts to enjoy the variety of products we offer; a John Deere gift can suit just about anyone's personality. The selection of John Deere merchandise has been expanded this holiday season and the new products are guaranteed to impress even the pickiest person on your list.
For the Sports Fan: How about a stadium blanket to keep you warm while sitting on those chilly bleachers? Or, if that doesn't strike your fancy, the John Deere billiard set could add the finishing touch to your game room!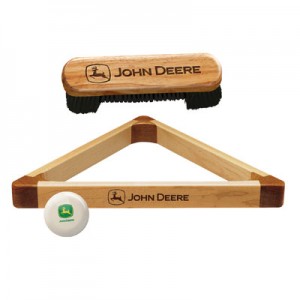 For the Techy: John Deere features a number of gadgets for your smartphone or tablet, including cases, covers, and stands. A leather-bound tablet case functions as a convenient stand while the sleek phone case keeps your phone protected and boasts the John Deere logo.