Backhoe Loader Review: John Deere 310SJ vs. John Deere 310E
chris sandler
12/26/2012 @ 7:36am
Just a guy who lives in Maine, has friends, has family, and has a good time.
http://blog.machinefinder.com/10611/backhoe-review-john-deere-310sj-vs-john-deere-310e

Backhoe loaders are useful pieces of construction machinery and can be found on small and large construction sites. Generally, this piece of construction equipment is used for excavation, carrying light loads, landscaping, and paving. In this blog post we will describe the unique characteristics of the John Deere 310SJ and the John Deere 310E backhoe loaders.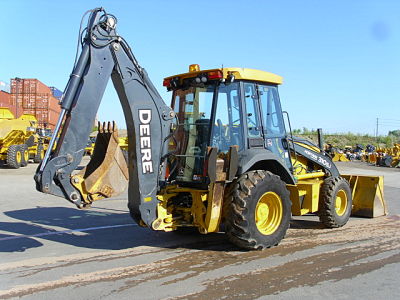 Above is a John Deere 310SJ
The JD 310SJ has a wide range of motion on its backhoe, can load as high as 11 feet 3 inches, and can dig a depth of 14 feet 5 inches. The JD 310SJ has a 4045T industrial engine with 92 horsepower, a Turbocharged aspiration, and a net maximum torque of 282 pounds per foot. The 310SJ also comes with a powershift transmission which has four gears moving forward and three in reverse.