The Best-Selling Used Farm Tractors of 2012, According to Machinery Pete
chris sandler
12/05/2012 @ 10:03am
Just a guy who lives in Maine, has friends, has family, and has a good time.
Over the past year, Machinery Pete has reported on some of the most outstanding selling prices for used farm tractors, as well as the agricultural community's opinion about these massive machines. Machinery Pete reports the results of tractor auctions across the country where used John Deere farm tractors are sold to anxious bidders. He is connected with 750+ auctioneers across the U.S. and Canada and has 40 contacts who gather auction results that are then listed on the Machinery Pete site.
The following is a month-by-month overview of some of the best-selling and record-breaking used farm tractors that Machinery Pete has reported on for the Machine Finder blog in 2012:
January: A 2001 John Deere 7510 tractor, with 830 hours of use, was sold for the record price of $82,000 at a Missouri auction.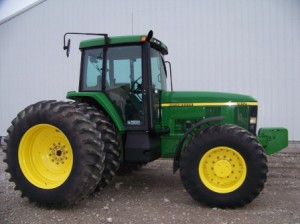 February: A 1983 John Deere 4050 2WD tractor with 3,975 hours sold for a new record auction sale price of $44,000 at an Iowa auction.