Drought shrivels again
Jeff Caldwell
04/11/2013 @ 8:50am
Agricultural content creator and marketer.
A week of cool, damp weather has taken another bite out of the area of the Corn Belt under drought conditions, according to Thursday's U.S. Drought Monitor map.
As of Tuesday, Illinois, Indiana (save the extreme northeast corner) and Ohio (save the extreme northwest corner) is free of drought, while the majority of Missouri is now drought-free. Most of Iowa remains under some condition of dryness, from "abnormally dry" to extreme drought, Thursday's map shows.
"Drought conditions declined slightly this past week, with 50.82% of the contiguous U.S. under drought, compared to 51.92% last week," says MDA Weather Services senior ag meteorologist Don Keeney. "The Northern Plains were essentially unchanged with 92%, while the southern Plains/Delta decreased again, to 58%. The Midwest declined a bit to 32%."
Though corn and soybean country saw a cutback in drought conditions, the most dramatic visual abatement of dryness came in Nebraska. As of last Tuesday, April 2, virtually the entire state was under "exceptional" drought, the Monitor's most severe category. The last week's moisture in that state pared back the most severely droughted area to 2 pockets in western and northwestern Nebraska.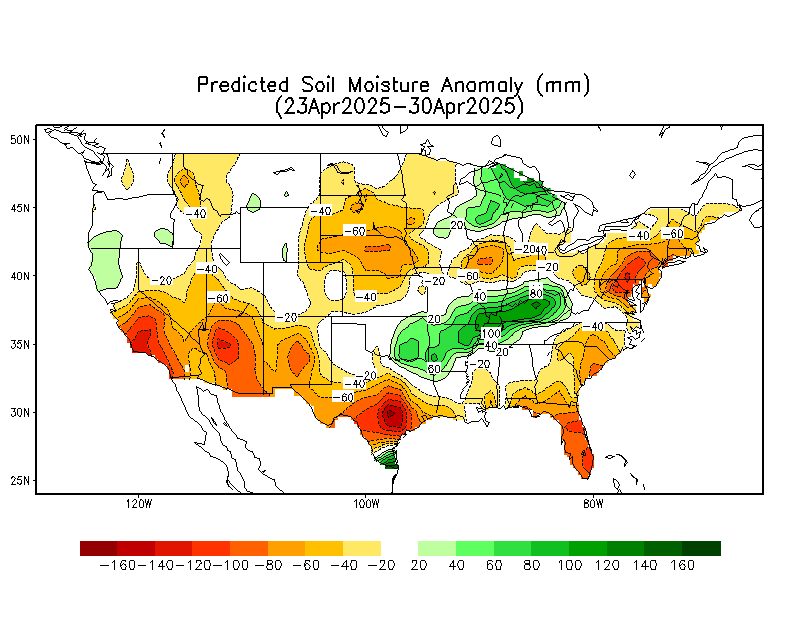 In pockets of the Corn Belt, rain (and snow in northern reaches) has piled up quickly in the last week. While there's still a general shortage of soil moisture, the last week -- albeit causing planting delays that some forecasters say could extend into the latter reaches of April -- has made a noticeable difference on the landscape, says Agriculture.com Marketing Talk advisor Mizzou_Tiger.
"A really wet one? And cool? Had 4 inches of rain in the last 5 days...pond finally starting to fill, creeks finally running water," he says. "Still not a full profile."
Moving forward, temperatures and moisture will combine to keep planting progress at a snail's pace north of the Mason Dixon line, forecasters say.
| | | |
| --- | --- | --- |
| "The current front is exiting the eastern Corn Belt today, and the next shower chance focuses on the Northern Plains and northwestern Midwest early next week. This will give an open period for corn planting along and south of the OH River from Friday through Tuesday, but a more active rain pattern then returns to these southern corn areas and slows fieldwork until the latter half of the 11 to 15 day," according to Thursday's Ag QUICKsheet from Commodity Weather Group (CWG). "The best conditions for planting through the forecast period as a whole will be in the Southeast. Cool temperatures return late next week, limiting any northward expansion of corn seeding." | | |