Weather Market Commentary
Tuesday, March 11, 2014
Yesterday daytime temperatures soared to the 70s in the western corn belt warming to 78 in Omaha,NE and farther southeast St. Louis,MO reported 80 F.
Soil temperatures at the 4 inch level warmed as well. Early this AM the soil temperature at the 4 inch level warmed to upper 30s over southwest IA, and farther east, 4" soil temperatures were generally in the 40s over IN and near 50 in southwest IN early this AM. A few weeks ago, frost had penetrated deep in the soil in parts of IA and the western Cornbelt. In Plainfield, IA, soil temperature probes had indicated the frost was as deep as 4 feet and in Des Moines as much as 21/2 feet. In many areas across IA the frozen soil depth is more than 2 feet and in few cases even as deep as 4 feet, including Castana and Newell. No doubt, the soils will take longer to warm up, but we did see some remarkable warming yesterday at the 4" level in parts of southwest IA as the 4 " probe indicated soil temperatures near 40 F.
See the Soil temperature chart Today much cooler weather is pushing south across the northern and central corn belt states. This cooler weather will slow the warming soils. Across much of northern IA, temperatures will generally cool through the day. Light rain mixing with and changing to snow is forecast over the western corn belt. Tonight, heavy snow could begin in southeast IA or northeast MO. A Winter Weather Advisory has been issued for tonight over North Central IL and North western IN. As much as 6-8" of snow are possible overnight across north central IL and northwestern IN. Peoria,IL could receive 3-5" of snow. One weather model wants to bring heavy snow to portions of eastern IA as well. We would not be surprised to hear thunder over southern IL tonight or tomorrow morning as showers and thunderstorms develop along a cold front pushing across the southeastern corn belt states. For the next 5 days, we look for about 0.40" over about 90% of the corn belt. Drier weather is forecast for the 6-10 Day period and wet weather again for the 11-15 day period. Winter Wheat Conditons improved in KS and TX. 37% of Wheat was in good to excellent condition in KS, 22% IN OK and 28% in TX. The 11-15 Day forecast period could bring some favorable moisture to this crop region. The 30 day temperature forecast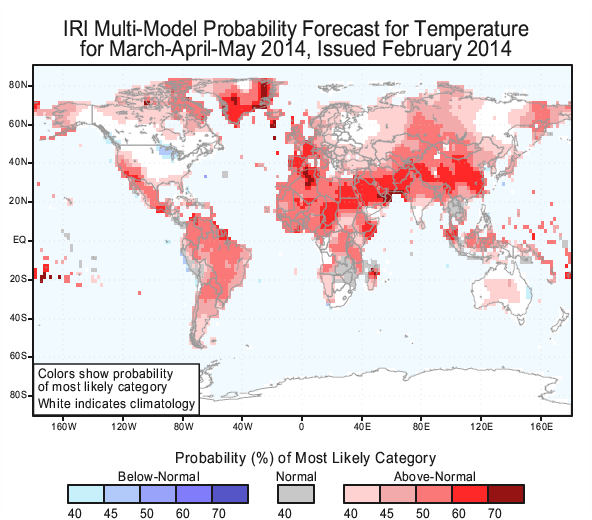 is for normal to cooler than normal temperatures across the upper midwest.