Leverage Resources for Crop Success

Provided by DuPont Crop Protection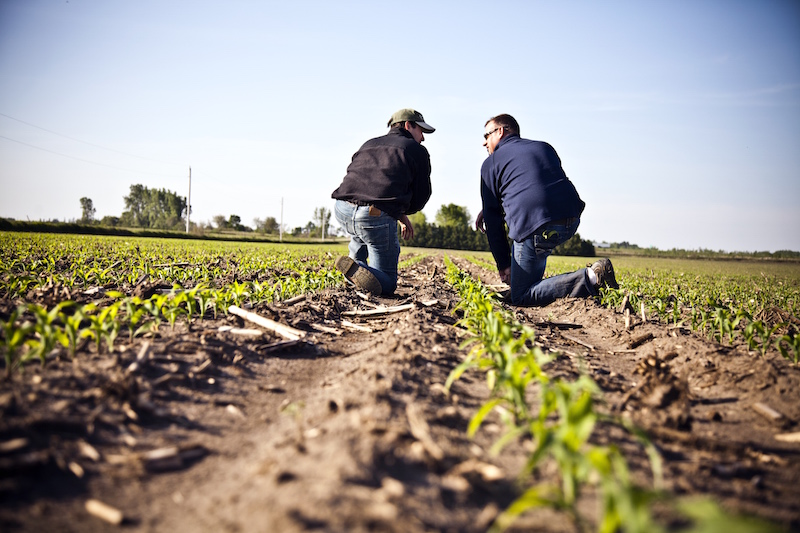 A full team approach combined with intensive season-long crop management and Mother Nature on his side helped Peterson break the 300-bushel barrier. Put 300-bushel corn within reach in 2017.
Southwest Iowa corn yield winner Jim Peterson says it takes a village to produce a successful crop. The Underwood, Iowa, grower harvested 309 bushels of corn per acre from his show plot in 2016, and it took good decision-making to get there. One of the keys, he says, is matching crop protection inputs with the needs of specific hybrids.
Peterson says leveraging the expertise and experience of an integrated agronomy team multiplies his results in terms of yield and confidence. Having local data and experts helps ease the pressure of decision-making.
"You don't achieve the yield you need unless you've got really great crop protection to go with the good seed you're buying," explains Peterson.
"Here in southwestern Iowa, moisture is our most limiting factor. June 2016 was really dry, but that benefited the crop." He says the dry start helped corn plants set strong root systems that soaked up timely rains in July and August and laid the groundwork for good grain fill. Average corn yield across the farm rose 16 bushels per acre over 2015, largely due to his intensive crop protection management plan.
Two-Pass Prescription
Protecting his seed investment from weed competition is a top priority for Peterson, who is also an independent DuPont Pioneer seed agent. He overlaps residual herbicide applications with multiple modes of action for season-long weed control.
"A two-pass system has been most effective for us," he says. "A clean start for young plants offers the best opportunity for great yields." His current program includes DuPont™ Prequel® herbicide to burn down emerged weeds and provide residual control as corn is getting established, then a postemergence application of DuPont™ Realm® Q herbicide and atrazine.
Peterson also shares farm information with his trusted, local agronomy experts to develop a customized plan that stretches input dollars. DuPont Crop Protection Retail Account Manager Todd Wesley and Technical Sales Agronomist Kyle Manz pair up to provide crop protection recommendations.
"The DuPont team is very knowledgeable," says Peterson. "We've seen weeds develop resistance to various herbicides. Using the program they suggest, we haven't had any problems with herbicide resistance."
"Waterhemp continues to be our number-one weed, especially in soybeans," says Wesley. "In 2016, a lot of waterhemp came in late with the late-summer rains and many growers are looking at modifying their weed-control programs for 2017." A two-pass herbicide program should be part of the equation, he adds.
Multiplying Buying Power
In addition to helping growers manage their cropping programs to protect yield potential, Wesley and Manz have other ways to give growers more value for every input dollar. "The DuPont Crop Protection TruChoice® Early Pay Multiplier* program helps growers lower their net cost per acre," Wesley explains.
Growers who commit to a crop protection budget through Early Pay Multiplier receive extra dollars to spend on crop protection purchases from their chosen retailers throughout the season. The deadline for signing up for Early Pay Multiplier is March 31, 2017.
"It's all part of grower-centric consulting," says Wesley. "We'll review the grower's agronomic program, including the crop protection retailer and seed seller in the process, see how the weed-control program performed and tweak it for the next season. Based on the hybrids he plans to plant, we'll determine whether we should bolt on additional protection in the form of a fungicide or insecticide to give him another 10 bushels per acre."
"It's the little things we do that add up to more bushels," adds Manz. "We don't sell a product and say it should be used on every acre. We use a field-by-field approach."
"We're all on the same team, working toward the ultimate goal of making the grower successful," says Wesley. "From seed to crop protection, our customers know they've got a team that will back them up."
And, since there's no waiting for a rebate with Early Pay Multiplier, growers can take full advantage of the extra buying power to make the most of the current season. "Customers are astonished that the program is so simple and easy," says Manz.
Sign up for TruChoice® Early Pay Multiplier by March 31, 2017. Learn more from your local DuPont Crop Protection agronomist, DuPont Pioneer seed agent or DuPont retailer, or visit earlypay.dupont.com.
*See TruChoice® Early Pay Multiplier program for terms and conditions.
Always read and follow all label directions and precautions for use.
Unless otherwise indicated, trademarks with ®, ™ or SM are trademarks of DuPont, Pioneer or affiliates. © 2017 DuPont.