In times of lower commodity prices, it's important for farmers to look for efficient ways that they can cut costs without impacting their crop. One area farmers can consider cutting soybean costs is in their fall burndown programs. Before making such a decision, however, it's important to evaluate the benefits of a fall burndown.
If pests such as soybean cyst nematode (SCN) are an issue on your farm, a fall herbicide application may be necessary, as SCN can use henbit as an overwintering site. These applications will also help control winter annuals, such as marestail, that have developed resistance to glyphosate and group 2 (ALS) herbicides. Marestail can germinate in both the fall and spring, so a fall burndown can reduce the amount of weeds present at the time of spring burndown. Because marestail can also overwinter as a rosette, it is much easier to control in the fall before it bolts in the spring.
A fall burndown can also reduce late escapes of summer annuals, preventing them from adding to the soil seed bank. And because there is less vegetation in the spring, a fall burndown will help to warm soil temperatures. However, do the benefits of a fall burndown outweigh a spring burndown? Many farmers have seen great value in a fall burndown, but it's important to find cost effective treatments that will also result in effective control.
During the 2017-2018 season, Beck's Practical Farm Research (PFR)® team in Southern Illinois evaluated fall versus spring burndown programs. The goal of this study was to not only compare the weed control between the two programs, but also find the most effective ways for the two programs to work in unison. For example, if a fall burndown is applied, can a cheaper burndown in the spring such as Gramoxone® or Roundup plus 2,4-D be used to help save on costs? Ultimately, a successful soybean herbicide program begins with a successful burndown, which also provides the opportunity to use different sites of action and herbicide actives. The table below depicts the treatments that were evaluated.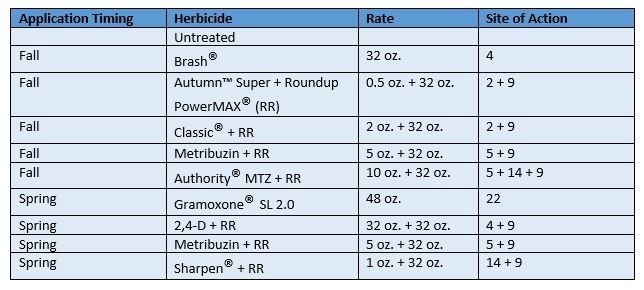 Fall Treatments
When deciding which fall herbicide treatment to use, you must first determine what you want out of your fall herbicide. Do you just want burndown activity? Or do you want residual activity that will last all fall? If you're looking for burndown activity, Brash® is a cost effective option to apply after harvest. It controls any late-emerging summer annuals such as waterhemp. Brash is also effective toward the end of the season when weeds are still actively growing but soil temperatures are on the verge of dropping, reducing new flushes.
Products such as metribuzin will provide both burndown and residual activity. However, the residual value won't be as great as with Autumn™ Super or Classic®. This will cause the residual activity to break by spring, requiring another burndown. Authority® MTZ will provide residual activity for the fall, but if an Authority-based product will be used in the spring, a different product should be applied in the fall.
Spring Treatments
When it comes to spring treatments, it's important to decide if you just want burndown activity or if you want burndown plus residual activity. Products such as 2,4-D can provide cheap and effective burndown activity but will require a plant back restriction. One substitute could be Xtendimax® on Roundup Ready 2 Xtend® soybeans, which wouldn't require a plant back restriction.
Spring applications of Gramoxone can require the use of another site of action compared to using traditional Group 2, 14 and 15 herbicides. However, Gramoxone will result in no residual value. Products such as Sharpen® and metribuzin can provide post and residual activity depending on the rate. Both products are very effective in controlling horseweed as well as many summer annuals. Since these products can offer residual control, they will help reduce the emergence of new weeds until planting.
An effective fall and spring burndown is important as it can determine the success of your entire soybean herbicide program. However, as margins become tighter we must continue to find ways to achieve successful weed control that is also cost effective.
Results
In our Beck's PFR evaluation, all treatments were applied in mid-November, right before extremely low soil temperatures hit. Because weed germination is heavily influenced by soil temperature, less weed pressure was observed after application. However, if warmer soils temperatures are observed and products with no residual value are applied, emerged weeds will be controlled but new flushes of weeds can emerge. For example, with products such as Brash®, the residual value is limited compared to products like Autumn™ Super, Classic® and Authority® MTZ. Heading into the winter months, visual observations showed that all fall treatments were very successful.
In late March, visual control ratings were taken to see how successful these treatments actually were against winter annual weeds such as annual bluegrass, marestail, pennycress and shepherd's purse. It was crucial to evaluate these treatments before spring soil temperatures began to rise. All the treatments in this study resulted in greater than 97% control of all the winter weeds except the treatment of Brash with Roundup PowerMAX®. Though these treatments were successful on the winter annuals, some weeds such as marestail have developed resistances to ALS (Group 2) and glyphosate. If you are experiencing this kind of resistance, using a group 4 product such as Brash, or 2,4-D, or metribuzin may be a better option for your farm.
Once the Beck's PFR team reached mid-May, the treatments that received a fall burndown had large flushes of summer annuals such as waterhemp and fall panicum. However, the spring-only treatments had primarily winter annuals present. The difference between the two weed spectrums is caused by the delay in the spring burndown. Since the fall treated areas were so clean, there was no competition or germination of summer annuals. The spring-treated areas had a substantial amount of winter annuals present, which reduced the amount of available sunlight and made it much more difficult for new flushes of summer annuals to emerge. In mid-May, spring treatments were applied as well as Gramoxone® on all fall treatments.
Visual ratings were then taken 14 days after treatment (DAT) the spring treatments were applied (Figure 6). Marestail control was more successful in the instances where a fall chemistry was applied. All of the fall treatments that were followed by an application of Gramoxone in the spring resulted in greater than 96% control of marestail. Compared to the spring-only treatments, that resulted in 82% marestail control. However, all of the spring treatments (with exception of Gramoxone) resulted in 93% control of marestail. The fall-applied treatments that were followed by Gramoxone resulted in an 8% increase of marestail compared to spring only treatments. This decrease in weed control could be attributed to the plant size. Herbicides such as Gramoxone are contact products, therefore coverage is key. By mid-May, the winter annuals had bolted and were much larger, making coverage more challenging. This same trend was seen with waterhemp, where the fall treatments followed by Gramoxone had a slight advantage with a 3% increase in control compared to the spring treatments. Though the waterhemp densities were higher in the fall treated areas, the Gramoxone had better coverage compared to the spring only treatments because of the larger winter annual weeds.
At 14 DAT, new flushes of weeds had emerged so density counts were conducted to evaluate treatment differences (Figure 8). Though the fall treatments followed by Gramoxone in the spring effectively controlled the waterhemp that had emerged, new flushes of waterhemp emerged after applications because Gramoxone has no residual value.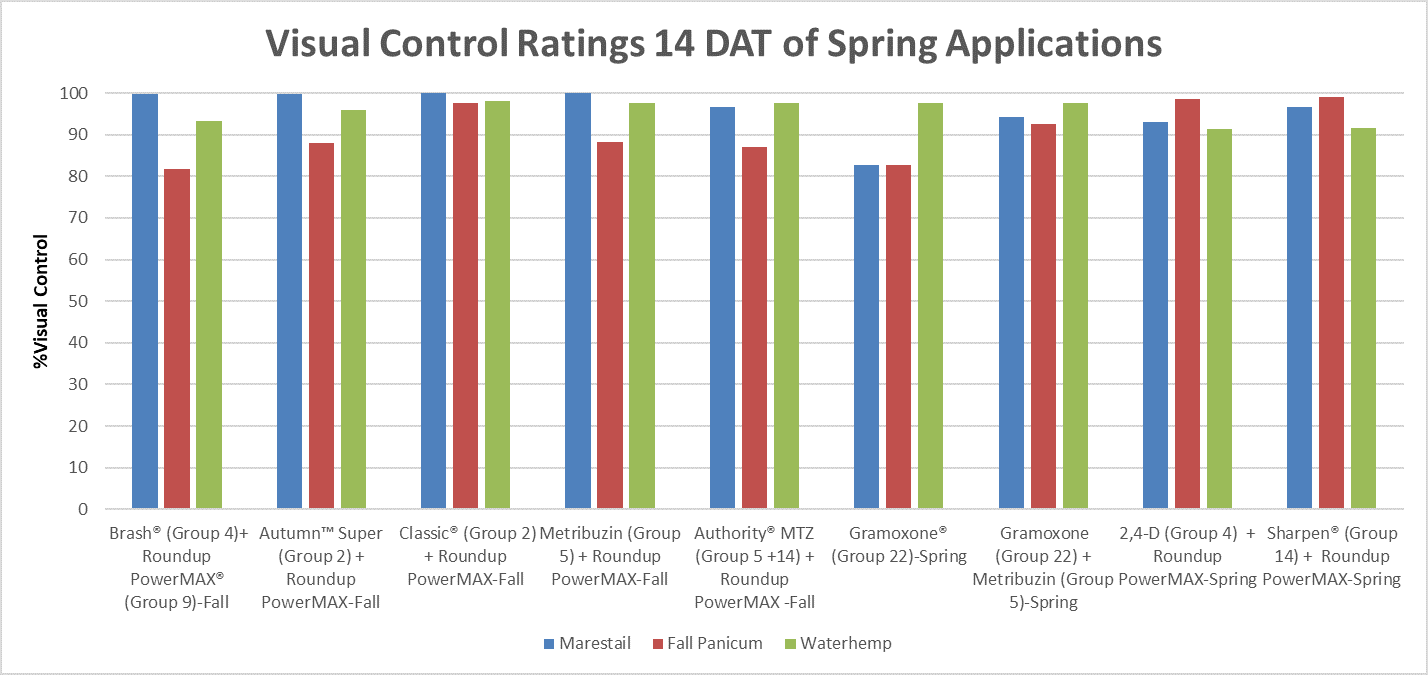 When compared to the other fall treatments, Sharpen significantly reduced waterhemp emergence. When taking the average of all the fall treatments, Sharpen resulted in a 93% reduction in waterhemp densities 14 DAT compared to the other fall treatments that were followed by Gramoxone. The addition of metribuzin to Gramoxone can increase the post activity while also offering some residual activity.
The addition of metribuzin to Gramoxone resulted in an 80% reduction in waterhemp densities compared to Gramoxone alone. The spring treatments did have a slight advantage when it came to waterhemp densities due to the thick vegetation cover from the winter annuals. This reduced light, which may have reduced new flushes of weeds.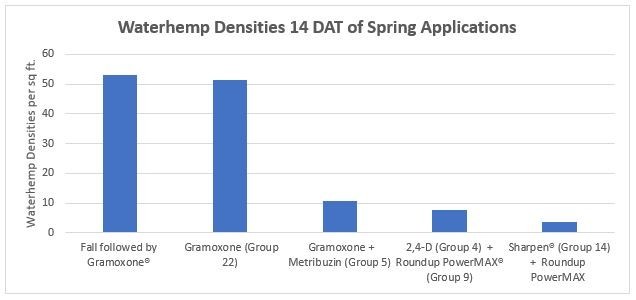 Soybeans were planted and sprayed with Liberty® and Warrant® Ultra. Liberty was used to control the waterhemp flushes that emerged after the spring burndown. Visual ratings were then taken 28 DAT of the Liberty and Warrant Ultra application to evaluate how the burndown influenced the efficacy of the application. The spring treatments that had less waterhemp when the Liberty and Warrant Ultra was applied had higher visual control ratings 28 DAT. Spring treatments (with exception to Gramoxone alone) resulted in more than 94% waterhemp control 28 DAT. However, the fall treatments followed by Gramoxone resulted in more than 75% control. When averaged, all fall treatments followed by Gramoxone produced 80% control while the spring treatments averaged 92% control. Treatments that had greater than 39 waterhemp plants ft-2 at the time of application resulted in less than 85% control by 28 DAT. However, treatments that had less than 10 plants ft-2 14 DAT resulted in more than 94% control by 28 DAT.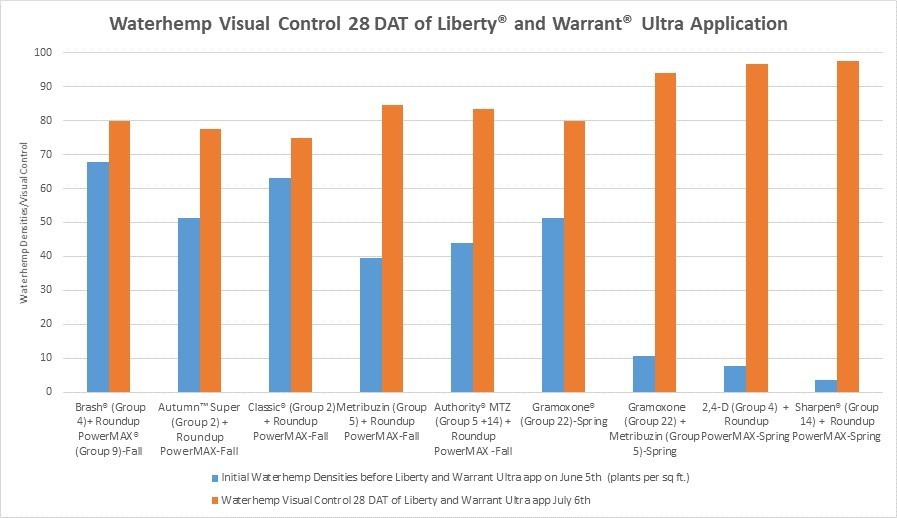 Overall, both the fall and spring burndown programs were very successful when it came to weed control. It's important to select a program based on your weed and pest spectrums. If marestail is an issue on your farm, using a fall burndown followed by a spring burndown can increase your weed control. Controlling overwintering sights can always be a benefit. Remember, starting clean is one of the keys to a successful herbicide program.

Beck's PFR is the largest source of unbiased, cutting-edge agronomic information in the industry. More than 500 studies were conducted in 2017, comparing over 150 products across multiple locations to learn how different management practices and new technologies perform in field environments. In evaluating agronomic practices and input products, not comparing seed products, Beck's PFR aims to help farmers maximize their input dollars and increase their bottom line. To view more PFR studies click here.
Practical Farm Research (PFR)® is a registered trademark of Beck's Superior Hybrids, Inc. Brash® is a registered trademark of WinField United. Autumn™ Super and PowerMAX® are trademarks of Bayer. Classic® is a registered trademark of E.I. du Pont de Nemours and Company. Authority® MTZ is a registered trademark of FMC Corporation. Gramoxone® is a registered trademark of a Syngenta Group Company. Sharpen® and Liberty® are registered trademarks of BASF. Xtendimax® and Roundup Ready 2 Xtend® are trademarks of Monsanto.