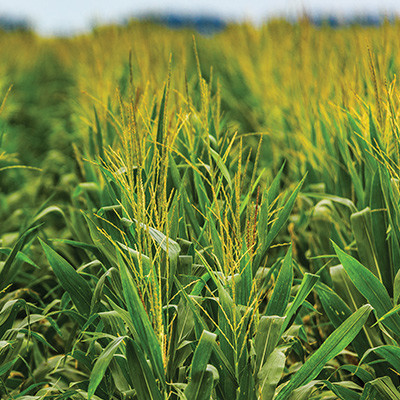 Now is the time to determine which agronomic plans can or should be updated for 2020. While growing seasons may be unpredictable, growers can be better prepared for whatever the season has in store by planning to ensure the health of their crops. When it comes to crop protection, including fungicides in agronomic plans not only helps with harvestability of the crop, but also helps the crop grow stronger, producing higher-yielding fields.
Something growers can do to protect their crops and produce optimimal yield potential is to incorporate fungicides. BASF offers growers a unique way to protect the health of their plants by offering Plant Health fungicide products. Specifically, these products help reduce the stress of biotic stressors like fungal diseases, and environmental stresses like hail, heat and drought.
"BASF Plant Health products actually increase antioxidant production in the plant, essentially priming them for times of stress," said Dr. Josh Miller, BASF Technical Market Manager – Plant Health. "This reduces oxidative stress and lets the plant focus on growing efficiently and creating yield. Our Plant Health products are the only products on the market proven to reduce both ethylene production and oxidative stress in corn plants."
Growers will always face disease and environmental stresses, but if the crops are being treated with fungicides, they will be healthier and better equipped to handle those stresses. This complete stress management means that crops can grow more efficiently, resulting in more consistent yield responses. When growers incorporate fungicides that help alleviate stress into their agronomic plans, their crops are more likely to thrive. A new option available to corn growers for the 2020 growing season is Veltyma™ fungicide.
Incorporating Veltyma fungicide is simple. Corn growers using the fungicide will have a wider application window, from 5-foot corn through R3, and more application flexibility, whether by ground or aerial application.
Veltyma fungicide's performance is swift, providing quick uptake and fast binding for exceptional curative activity. When using the product, growers should feel secure knowing that the residual activity in combination with the Plant Health benefits from Veltyma fungicide are working to maximize the health of their crops. Not only will the product move inside the plant quickly, it will form inner leaf reservoirs, steadily releasing more of the product over time to continuously protect from disease and environmental stressors. This ensures growers' corn plants are protected for a longer period of time.
"There will always be some sort of stress on the plant," said Miller. "With Veltyma fungicide, you get the full benefit of BASF Plant Health with disease control and mitigation of environmental stresses to boost corn productivity. These benefits help protect growers' corn crops from whatever Mother Nature throws at them, whether that is disease or environmental stresses."
Veltyma fungicide and other BASF Plant Health products were recently the focus of the RevX trial program with over 1,400 on farm trials across the country. Results from those trials will be released in January at RevX.com.
To learn more about the benefits of BASF Plant Health products and Veltyma fungicide, visit Veltyma.com or talk to your local BASF representative.
---
Always read and follow label directions.
Veltyma is a trademark of BASF Corporation. © 2019 BASF Corporation. All rights reserved.