My name is Peter Schram and I was born and raised on a farm in Nebraska. I attended the University of Nebraska, and earned an Agribusiness degree and an MBA with an emphasis in Agribusiness. I currently am involved with farming the land my family and I own, as well as personally owning and operating a consulting/brokerage business in which I focus on helping build marketing plans. I am passionate about helping farmers make profitable decisions.
As the Seed Purchasing Manager at Beck's, I am often asked, "Should I sell?" I usually respond in question: "Are you profitable here? How much have you sold already?" It is very difficult for me to directly answer that question if I do not know your breakeven and profit goal. I would caution that my opinion and "should I sell" recommendation does not guarantee that you will be profitable.
The foundation of grain marketing is a plan. As farmers, you don't want to speculate. You want to be profitable and protect your income. Many farmers worry about marketing, especially if they feel they have missed a good opportunity to sell – and farmers miss opportunities because they happen during the busy times of the year. Farmers delay a decision to market simply because it can be delayed. You are busy and it isn't the traditional priority. Our dads taught us the importance of timely planting, side dressing, spraying and harvest, but often, they had a difficult time explaining how they marketed their crop.
Most of the time when an opportunity is missed, it is because one didn't have a grain marketing plan. The purpose of having a written plan is to remove emotion. It also helps if you share this plan with your partner, your banker, or an advisor. Grain marketing truly is more of an art than a science. The markets eventually move with fundamental supply and demand tendencies. Everyone likes to talk about selling at the high in the market, but grain marketing is more about having a disciplined approach to making decisions. It is about the profitability you create from selling your crop. What really matters is the average price that you sell ALL of your crop.
Work Your Plan
The foundation of a marketing plan is to understand expenses for things such as cash rent, fertilizer, seed, chemicals, lime, equipment, repairs, labor, fuel, and more. Work to calculate what breakeven is at an average or actual production history (APH) yield. What is the profit goal per acre? When do I need to sell for cash flow?
I develop this budget and track my progress during the year. My actual results will be different; expenses will be higher or lower and yields will be better or worse than I budgeted. I might even get an unexpected government payment. How do these variables affect my profitability? I also track sales and brokerage gains and losses during the year. If I track how I am doing, I have found that it helps remove emotion from the decision-making process I use to market my grain.
There are several tools available to help build your budget. Beck's precision farming tool, FARMserver®, has a template that is available and several Land Grant Universities have more in-depth spreadsheets. All of these can help you track cost of production and understand a breakeven price or a profit per acre.
Once I have a plan in writing, I aim to sell my crop on rallies over time when I am at or exceeding the price I need to make a profit. It is important to consider the time and normal seasonality the market tends to follow. I plan to be aggressively marketed by mid-July. I will sell in the cash market up to my comfort zone (50 to 75 percent of my anticipated yields or even up to my crop insurance level) then use put options to floor my price on the balance of my production. If you are nervous about committing to selling, put options may be a good tool for you to explore. Most importantly, if it isn't profitable in your situation, don't do it.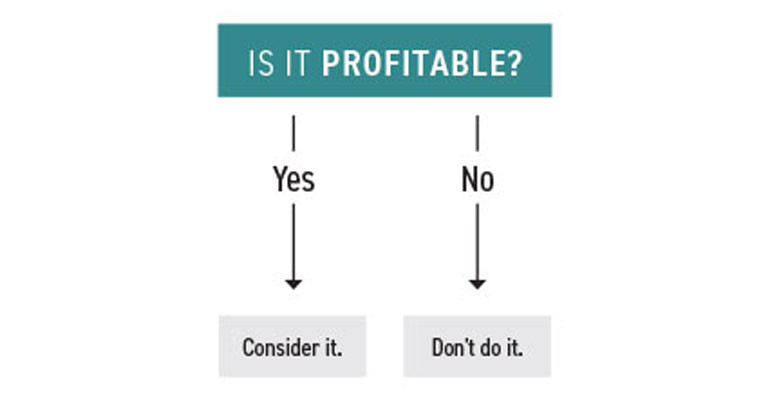 In order to execute your plan, I have found that it makes sense to sell during the year when the futures market is most worried about production. This is the time of year with the most unknowns. How many acres of corn and soybeans are farmers going to plant? How is planting progressing? When it feels the worst, I have found that is often the best time to sell. When the market knows or is more certain what production will be (acres x yield), the market will begin to remove risk premium. Have discipline to sell good portions of your bushels during those periods. A diverse marketing strategy is generally a good idea to reduce the risk of missing the marketing opportunity.
Below is a chart that depicts those seasonally good times to sell grain. These graphics hold true in years with a normal crop and a projected carryout that is comfortable. In crop years that are impacted by weather (like 2012), the top tends to be later.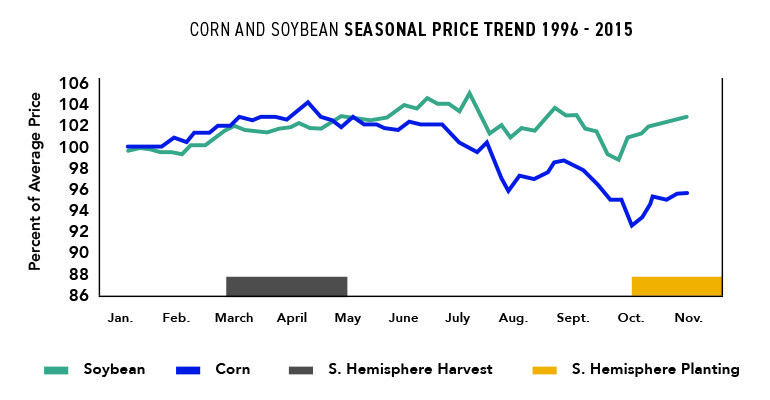 An expanded version of this article with more specifics is available on the Beck's blog which you can access by clicking here.
**There is a substantial risk of loss in trading futures and options, therefore you should carefully consider whether trading is appropriate for you in light of your experience, objectives, financial resources and other relevant circumstances.**
FARMserver® is a registered trademark of Beck's Superior Hybrids, Inc.
For more related articles, visit here.