Drying a Big Crop This Fall? Get Your Propane Now, Experts Say
A big corn crop plus a fall harvest season that, in much of the Midwest, is starting out on a slow, damp note could equal a big demand for propane to dry grain as fall advances, which opens the door to increasing prices.
The good news is that propane supplies are starting out well above where they were a year ago, according to new data from the U.S. Department of Energy (DOE) Energy Information Administration (EIA).
A year ago, late-harvest propane demand was huge, about equal to periodic subsequent winter heating demand. Because of both seasons -- especially the harsh winter that followed last fall's harvest -- propane demand was massive and left inventories fairly low, especially when logistical problems like a pipeline closure and rail transportation issues were added in. They've bounced back, though, and right now sit almost 4 million barrels higher than a year ago, according to the EIA's Stacy MacIntyre. Infrastructure problems have been solved, making the vital fuel more available where it's needed this fall.
"As of September 26, inventories were above the five-year average and 3.7 million barrels higher than year-ago levels. However, recent infrastructure changes may affect propane supplied to the Midwest in the coming months, especially under high-demand conditions," according to an EIA report from MacIntyre. "The Cochin Pipeline was reversed earlier this year and now moves condensate from the Midwest to Canada. However, at least some of these supplies will be replaced by additional supplies from several existing pipelines that move propane north from Conway, Kansas, to the upper Midwest, as well as by expanded rail and storage capacity in the region."
Though this is a good starting point for the industry heading into a high-demand season in the Midwest, Mother Nature is the final arbiter of the propane supply -- and ultimately, price -- situation. Wet, cool weather could cause the supply situation to tighten quickly, as it did in 2013.
"The weather influences both the moisture content of the crop and when it reaches maturity. If weather is favorable, farmers may let their corn dry in the field, especially if there is not a price incentive to get it to market right away. Last year, propane demand in the top five corn-producing states increased in October to levels that rivaled the normal peak demand in January, drawing down propane inventories before the heating season began," MacIntyre says. "Propane inventories in the Midwest were drawn down by 4.1 million barrels (130,000 bbl/d) in October, which was the largest October stock draw since 1985."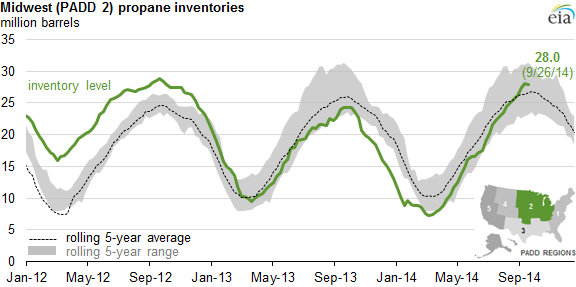 (chart courtesy Stacy MacIntyre, DOE-EIA).


The current supply situation is a reason for farmers to stock up on propane now before demand causes prices to rise, taking a bigger chunk out of an already gloomy profit picture for corn. Purdue University ag economist Wally Tyner says last year's wet harvest -- one similar to the way this year's is starting to shape up -- meant major shortages for a lot of farmers late in the season. His message is brief:
"It's simply better to be prepared," he says.
Another option -- provided the right weather window, experts agree -- is field drying. If recent history is any indication, however, don't push the field-drying envelope too much, especially if your weather's staying on the wet, cool side, says Purdue ag and biological engineer Klein Ileleji.
"It looks like it's going to be a great crop, and it definitely looks like it could be a wet harvesting year. Farmers should be working now to avoid problems later on. We typically talk about taking out 5% or more of the moisture in the drying process. Now we could be talking about 10% or more for some of the crop," Ileleji says, adding that it's better to take action sooner rather than later if you have to move grain into storage. "We are already pushing the outside of the weather envelope in late October. It is better to bring the crop in wet than to have it freeze."